A Night of Poetry
ft. Huan He, in celebration of Sandman
Wednesday, May 24, 2023
5 pm EST
Online, via Zoom

The Palah Light Lab is excited to present a night of queer poetry on May 24th at 5PM EST celebrating Huan He's award-winning chapbook
Sandman
out on Diode Editions! Additional readers include Sarah Sgro, Kat Schmidt, and George Abraham, with a Q&A facilitated by special guest Truong Tran.
For Zoom information, please register at:
https://NewSchool.zoom.us/meeting/register/tJclce2tqTIvHtGHC_lx4sYu2R13dD4W9ojq
Huan He
is currently a Postdoctoral Fellow at the University of Michigan's Digital Studies Institute and this fall will be an Assistant Professor of English at Vanderbilt University.
Sarah Sgro
is a PhD candidate in English at the University at Buffalo where she studies digital waste.
Kat Schmidt
is a Creative Writing MFA student at The New School studying Fiction, Poetry, and Transmedia and Digital Storytelling.
George Abraham
(هو/they) is a Palestinian American poet. They are a Litowitz MFA + MA student at Northwestern University.
Truong Tran
is a Vietnamese-American poet, visual artist, and teacher. He is an author of eight collections of poetry, artist book, and a children's book. As a visual artist Tran is best known for mixed media pieces and light installations. His work is in private collections, and has been featured in solo gallery shows as well as museum exhibitions across the Bay Area. As a teacher, Truong Tran has over twenty years experience as a professor of Creative Writing to both graduates and undergraduates, and has mentored thousands in the community.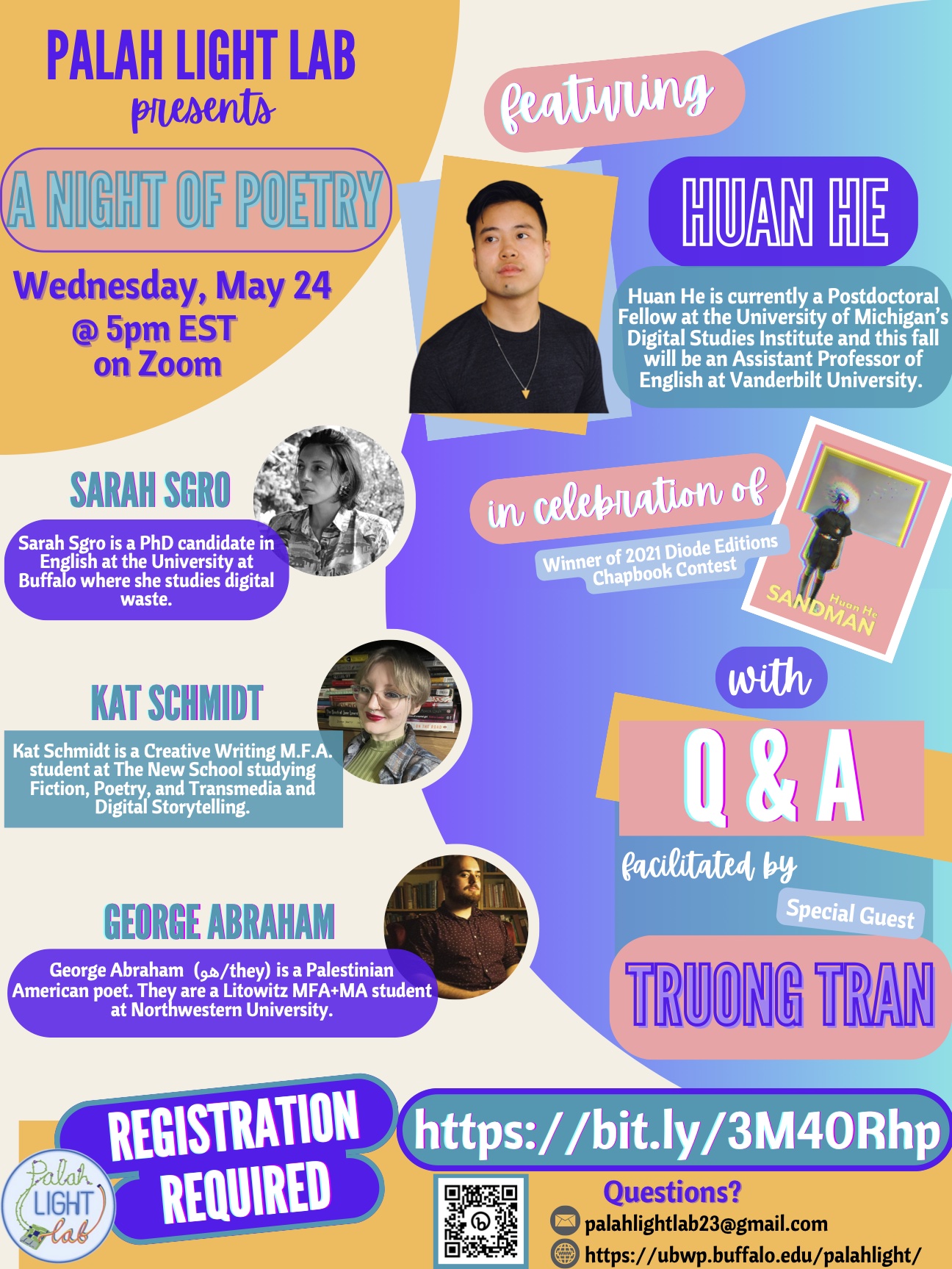 Contact
︎
palahlightlab@newschool.edu
︎
@palahlightlab
︎
@palahlightlab
Palah 파랗 Light Lab is based between the following institutions:
Web design by
Johann Yamin
, built with
cargo.site
's
Post-Dust
template
Affiliates
Digital Scholarship Studio and Network
, University at Buffalo
Gender Institute
, University at Buffalo
Digital Humanities & Literary Cognition Lab
, Michigan State University
The Humanities and Critical Code Studies Lab
, University of Southern California
The Maker Lab in the Humanities (MLab)
, University of Victoria
Trope Tank
, Massachusetts Institute of Technology
Metalab
, Harvard University
The Transformative Play Lab
, University of California, Irvine
Berkeley Center for New Media
, University of California, Berkeley