About


Palah 파랗 Light Lab is a creative and critical space that fosters poetry, participation, and pedagogy through technology and equity. As a knowledge-design, new media, and poetry lab, the Palah Light Lab investigates critical questions in cultural criticism along with the networked arts and humanities. Utilizing a feminist and queer-centered approach, we are interested in design anchored in the humanities and scholarship informed by transdisciplinary practices and technology. Palah Light Lab centers the question of equity at the forefront of our work, and we seek to creatively and critically engage new media in experimental ways that address pressing social issues and injustices.

The lab is led by Dr. Margaret Rhee and based between The New School, New York and the University at Buffalo, New York. Student leaders as organizers, researchers, and fellows help co-direct the lab. It was previously funded by the SUNY Diversity Faculty Fellowship and currently funded by The New School Provost Office. The lab promotes feminist creativity, mentorship, and collaboration through a creative space.

︎ palahlightlab@newschool.edu ︎ @palahlightlab ︎ @palahlightlab




Faculty
Margaret Rhee
Director, Assistant Professor
Margaret Rhee is a poet, scholar, and new media artist. She is the author of the poetry collection Love, Robot named a 2017 Best Book of Poetry by Entropy Magazine and awarded a 2018 Elgin Award by the Science Fiction Poetry Association and the 2019 Best Book Award in Poetry by the Asian American Studies Associaion. Currently, she is completing her monograph
How We Became Human: Race, Robots, and the Asian American Body
soon to be reviewed. Forthcoming books under contract include a Queer Film Classics title on
The Watermelon Woman
and
Poetry Machines: Letters to a Future Reader
on the intersections of poetry, cinema, and ephemera. Her new media project
The Kimchi Poetry Machine
was exhibited in the
Electronic Literature Collection
Volume 3 and her feminist participatory digital storytelling project in the San Francisco Jail was awarded a Chancellor's Award for Public Service. She was a College Fellow in Digital Practice in the English Department at Harvard University and a member of MetaLab @ Harvard. She received her Ph.D. from UC Berkeley in ethnic studies with a designated emphasis in new media studies. She is an Assistant Professor in the Department of Media Study at SUNY Buffalo.
︎
mrheeloy.com
︎
@mrheeloy
2023 Research Team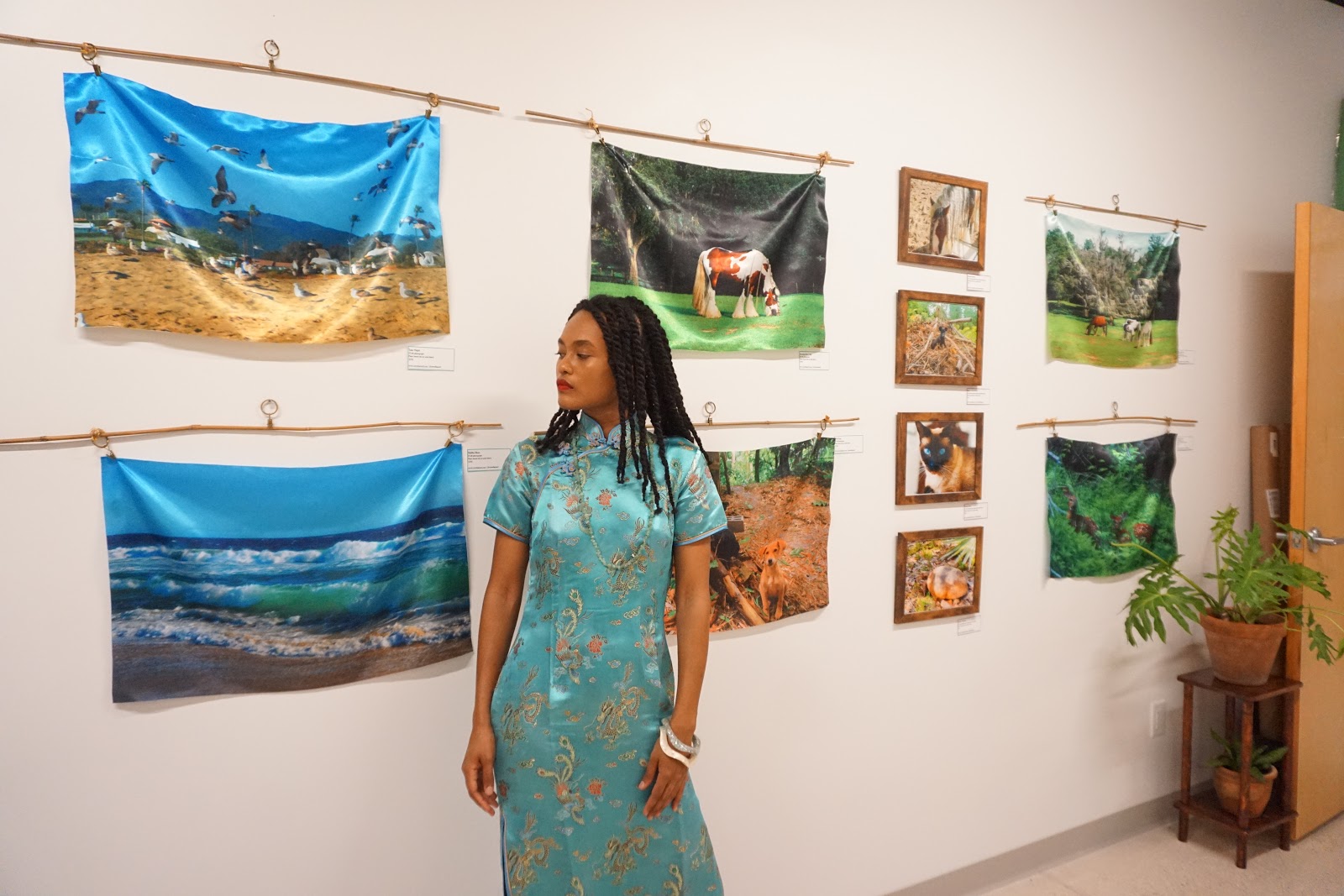 Dennica Pearl Worrell
Lab Manager, Graduate Research Assistant
My name is Dennica Pearl Worrell and I am a Barbadian and Filipino multimedia artist based out of Deerfield Beach, Florida. I graduated with a Bachelors of Science in Liberal Arts with a focus in journalism from The New School in August 2019. I am currently enrolled in a graduate program at The New School pursuing a Masters in media studies with a focus in documentary filmmaking and arts entrepreneurship.
I use photography, film, writing, and sound design to explore the act of finding cultural and existential freedom in the great outdoors from my distinct perspective as a woman of color in America. I create art with the intention to inspire people to find racial autonomy by immersing themselves in exploring and living sustainably with mother nature.
Filmmaking is where I combine all of my passions - music, writing, visual art - into one fluid expression. I am excited to continue creating media and art installations that inspire people to investigate our cultural relationship to mother nature, to plant a garden, or to simply find joy in exploration of the great outdoors.
︎
dennicapearl.com
Johann Yamin

Lab Manager, Graduate Research Assistant
Johann Yamin's (he/they) projects have taken shape as essays, moving image installations, and text-based videogames, alongside curatorial work and varied forms of support. His writing and research focus on emerging media, digital cultures, and histories of technology. He was previously Curatorial & Research Resident at the Singapore Art Museum in 2021, and a 2020 Rapid Response for a Better Digital Future Fellow at Eyebeam, New York for co-organising the online project,
Pulau Something
.

︎ johannyamin.com
Bec Ritchie
Graduate Research Assistant

bec ritchie is a queer poet from glasgow, scotland, and a creative writing mfa candidate at the new school. considering themes of queerness, femininity, and their relationships to the body, her work can be found in chew/gulp/spit, the closed eye open and is forthcoming in the spring 2024 issue of the beyond queer words anthology. bec currently lives in new york.

Eric Weck

Graduate Research Assistant
Eric Weck (he/they) is a Brooklyn-based writer and editor. Currently, he's pursuing his MFA in Creative Writing at The New School, with a concentration in fiction. Their writing explores the inherent queerness of fantasy worlds, external manifestation of trauma, and the messy ways queer people carve out their own paths in love and life. You can find their work in
The Ana
.
Joshua Goodstein
Graduate Research Assistant
Joshua Goodstein is a graduate student in Media Studies at The New School, 2022-2024 HASTAC Scholars Fellow, and Indy Vinyl for the Masses contributor. Their research specializations are movie musicals, camp, and cult film, at the intersections of stardom, classical Hollywood, queer theory, and cultural studies. Their undergraduate thesis at Purchase College engaged theories of camp, cuteness, reflexivity, star image, and adaptation to explore how the Hollywood musicals of the 1970s-1990s depart from the conventions of the classical era and queer normative regimes of social abjection by ushering in new modes of emotional identification, deploying an aesthetic of sincerity that overlaps with the queer sensibility of camp.
︎
goodstein.hastac.hcommons.org
︎
@goodjscholar
︎
@fakejoshuagoodstein
Kate McDonough

Graduate Research Assistant
Kate McDonough is a queer non binary trans writer and organizer. Their work explores the politics of place v. space and finding radical queer joy in the midst of an apocalypse. They are an MFA Creative Writing candidate at The New School. Kate has organized in New York City and State for over a decade. Their most recent work is with Dignity in Schools Campaign NY, an education justice coalition consisting of students, parents, educators and advocates. Kate grew up in the Bronx and now lives in Brooklyn.
2023 Lab Cohort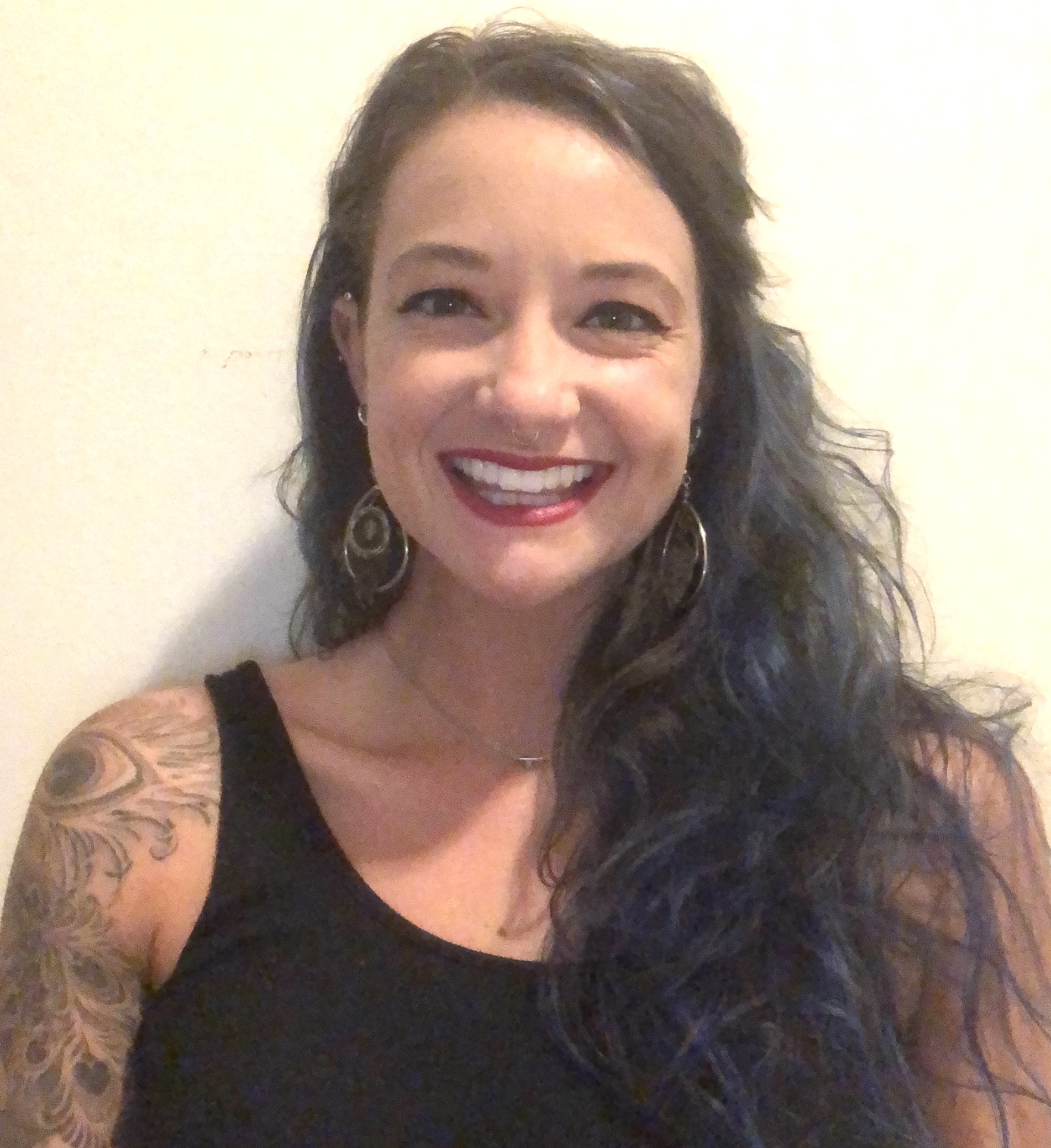 Jocelyn E. Marshall (Jos)
Lab Lead, Director of Programming
Jocelyn E. Marshall (she/they) is Affiliated Faculty in the Department of Writing, Literature, & Publishing at Emerson College, and was previously a Dissertaiton Scholar at Brandeis University's Women's Studies Research Center. Her scholarly, curatorial, and editorial projects focus on contemporary U.S.-based women and LGBTQ+ artists and writers, researching relationships between intermediality, diasporic displacement, histories of trauma, and queer and feminist studies. Their research has been supported by the Mark Diamond Research Foundation and New York Public Library. Her work has appeared or is forthcoming in the Journal of American Culture, Women & Performance, Public Art Dialogue, Tripwire: A Journal of Poetics, and elsewhere. Currently, they serve as the Director of Programming and co-lead at the Palah Light Lab, as well as co-chair the Gender & Feminisms Caucus Board at the Society for Cinema and Media Studies.
︎
emerson.academia.edu/JocelynEMarshall
Sarah Sgro
Lab Lead, Managing Editor + Research Assistant Liaison
Sarah Sgro is an English PhD candidate and Judith Kerman Fellow in Technology and the Humanities at the University at Buffalo. She studies digital waste and works as a lab lead and Managing Editor for the Palah blog. She is the author of the poetry collection
If The Future Is A Fetish
(YesYes Books, 2019) and received her MFA in Poetry from the University of Mississippi. Her work appears in
Annulet: A Journal of Poetics
,
Peach Mag
,
The Offing
, and other publications.
︎
sarah-sgro.com
︎
@_sgrotesque
︎
@instagurl240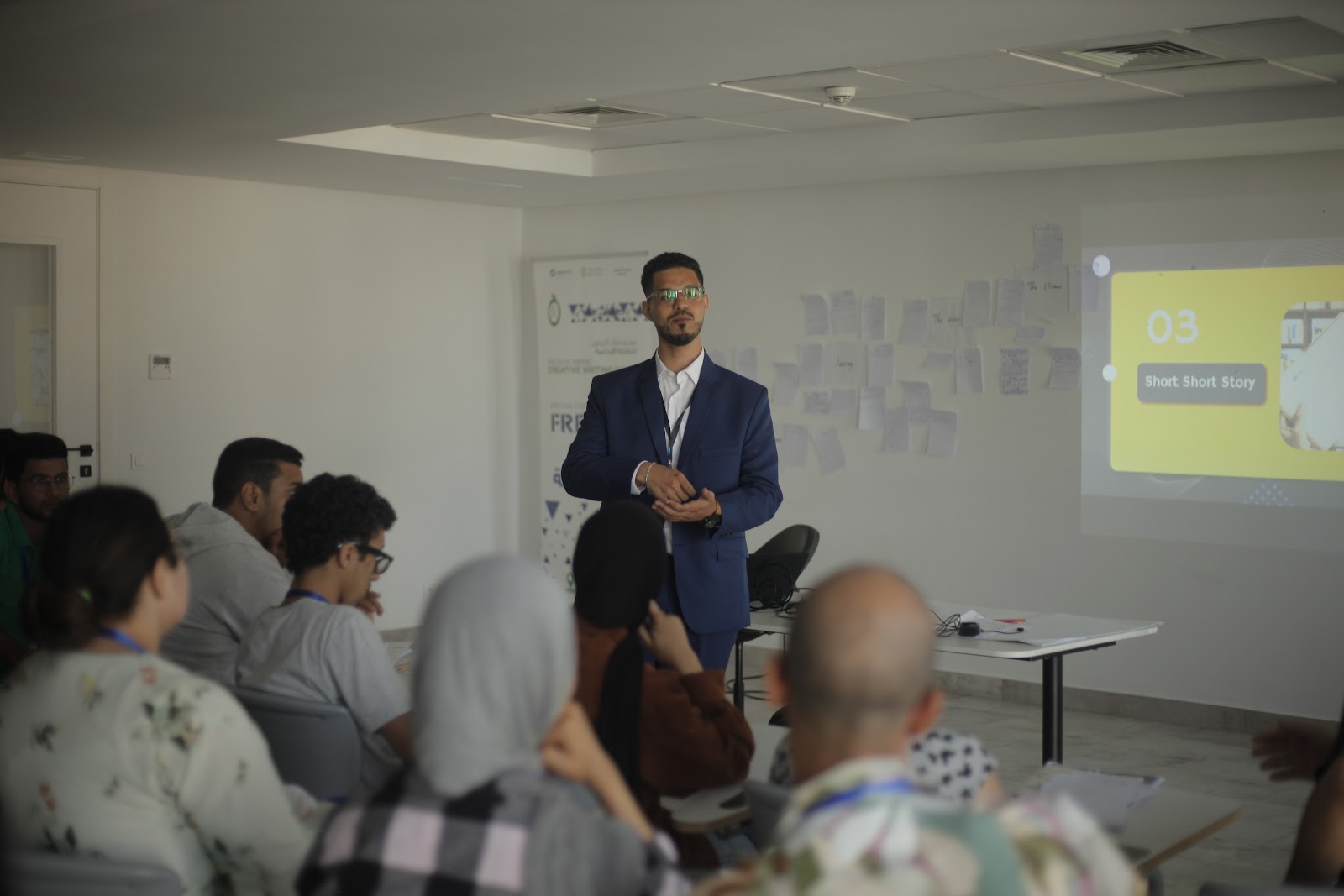 Rachid Benharrousse
Lab Lead, Research Director
Rachid Benharrousse is a Doctoral Candidate at Mohammed V University in Rabat and the Research Director at the Palah Light Lab at The New School & University at Buffalo. He was an Early Career Researcher at the Association of Middle Eastern Women's Studies (AMEWS), and a Researcher of Digital Studies at the Berkman Klein Center at Harvard University. Benharrousse was an Early Career Researcher at the African Academy for Migration Research (AAMR) at the University of Witwatersrand, a Researcher at the Palah Light Lab and Amatryx Gaming Lab at the University at Buffalo, SUNY, and a Research Collaborator at the Paris Institute for Critical Thinking (PICT).
︎
benharrousse.com
︎
@BenharrousseR
︎
@r.ben.r
Mariana Graterol Lopez
Lab Lead

Mariana Graterol is a Venezuelan filmmaker and journalist based in New York. While pursuing a MA in Media Studies with a minor in Anthropology and Design at The New School, her art explores the intersection of social equity, diaspora, and belonging through cultural analysis, moving images, and creative writing.


Kat Schmidt
Fellow

Kat Schmidt is a Creative Writing MFA student at The New School studying Fiction, Poetry, and Transmedia and Digital Storytelling.
Morgan J. Sammut
Fellow
Morgan J. Sammut is a nonbinary interactive fiction writer and recent graduate of Mount Holyoke College, where they studied English and computer science. Their hypertext work re: definition was selected for the International Conference on Interactive Digital Narrative's 2022 art exhibition "Hops Ahead: The Art of Alternate Histories, Presents, and Futures." They are a member of the Amatryx Gaming Lab & Studio, where they act as the mini-grant coordinator, co-curator for the 2023 Buffalo satellite exhibition of Michigan State University's Creativity in the Time of COVID-19, and layout designer for the accompanying catalog What We Made During the Pandemic: A Marginalized Response to COVID-19. Morgan is also on the programming committee for the 2023 International Conference on Interactive Digital Narrative's Virtual Worlds, Performance, Games and Play track. Their current work includes a hypertext piece based on the myth of Orpheus and Eurydice, an article on performance and interactive narratives, and a collection of short stories. In their spare time, Morgan enjoys fencing, baking, and crochet.
Alumni
Lab Leads and Research Assistants
Blair Johnson (2021)
Awa Sow (2020)
Andrea Pagan (2020)

Cohort Members
Ashley P. Jones (2021)
Azalia Primadita Muchransyah (2021)
Charlie Best (2021)
Evan Moritz (2021)
Gabriela Cordoba Vivas (2021)
George Abraham (2021)
Huan He (2021)
Joan Nobile (2021)
Jordan Clapper (2021)
Maddy Clemente (2021)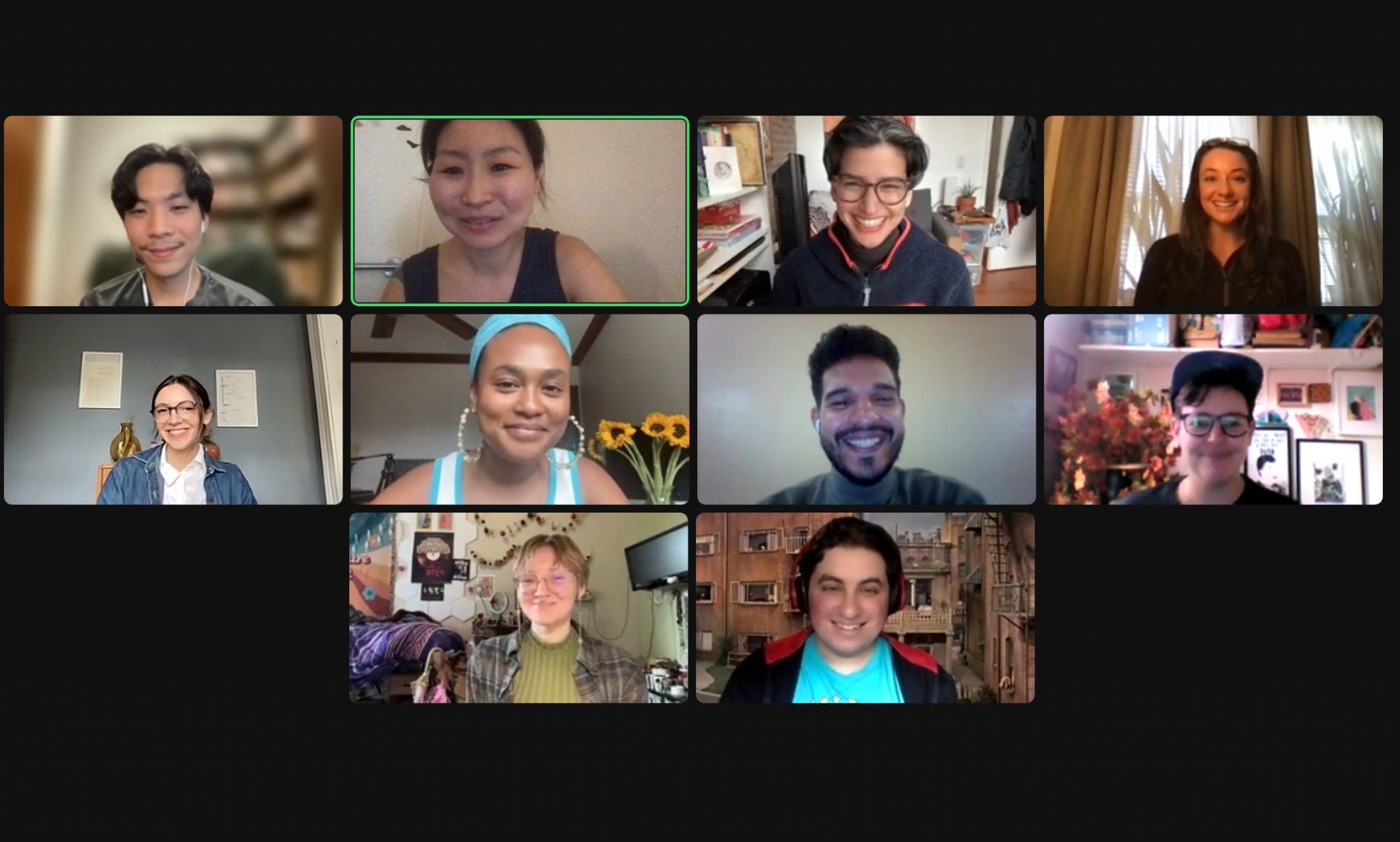 A lab meeting and slide slam introducing new members, April 2023. From top left: Johann, Margaret, Mariana, Jos, Sarah, Dennica, Rachid, Kate, Kat, and Joshua.
A lab meeting from April 2023 with Palah Light Lab Research Assistants. From top left: Eric, Margaret, Bec, Johann, Kate, and Dennica
Affiliates

The Palah Light Lab is proud to be affiliated with a number of creative new media and digital humanities labs at University at Buffalo and elsewhere. If you are interested in becoming affiliated with the Palah Light Lab, please contact us!



Metalab
Harvard University
The Transformative Play Lab
University of California, Irvine
Berkeley Center for New Media
University of California, Berkeley
Contact
︎
palahlightlab@newschool.edu
︎
@palahlightlab
︎
@palahlightlab
Palah 파랗 Light Lab is based between the following institutions:
Web design by
Johann Yamin
, built with
cargo.site
's
Post-Dust
template
Affiliates
Digital Scholarship Studio and Network
, University at Buffalo
Gender Institute
, University at Buffalo
Digital Humanities & Literary Cognition Lab
, Michigan State University
The Humanities and Critical Code Studies Lab
, University of Southern California
The Maker Lab in the Humanities (MLab)
, University of Victoria
Trope Tank
, Massachusetts Institute of Technology
Metalab
, Harvard University
The Transformative Play Lab
, University of California, Irvine
Berkeley Center for New Media
, University of California, Berkeley