Afro-Asian Poetics, Music, and Solidarity: Index Release and Pantry Opening

[Please note: Due to severe weather, we have postponed this event to Sat, October 7th.]
Saturday, October 7, 2023
2–3.30pm ET
MoCADA Abolition House, 7A Nolan Park, Governors Island, New York, NY 10004
We are happy to celebrate the release of the
Afro-Asian Poetic Index
and opening of the
Afro-Asian Poetic Pantry
by Margaret Rhee and
Presence
by Malaika Temba & Sunnie Liu at the MoCADA Abolition House.
The
Afro-Asian Poetic Index
is a public resource edited by Dennica Pearl Worrell, Margaret Rhee, Kate McDonough, and Johann Yamin. It includes over 60 initial entries of links, websites, and biographies gathering artists, activists, scholars, books, collections, and movements recognizing Afro-Asia as an artistic, social, and political act of resistance. We are honored to include a foreword by Amy Andrieux, executive director of MoCADA and Lisa Gold, executive director of A4.
Presence
by Malaika Temba & Sunnie Liu is a dynamic two-channel video installation reflecting the anonymous responses of Harlem and Chinatown communities against the proposed new jails, fostering interwoven struggles, liberation, and abolitionist reimaginings.
Presence
by Malaika Temba & Sunnie Liu and
The Afro-Asian Poetic Pantry of Solidarities
by Margaret Rhee are projects from The Bandung Residency 2023 by The Museum of Contemporary Diasporan Arts (MoCADA) and the Asian American Arts Alliance (A4).
The celebration will feature poetry, sharings, and musical performances from contributors to the
Poetic Pantry
and
Presence
:
Kate McDonough
Johann Yamin
Maya Marshall
Margaret Rhee
Featured Artists:
Rohan Zhou-Lee
Dennica Pearl Worrell
Artist talk for
Presence
by Malaika Temba & Sunnie Liu
A special writing workshop will be held in the installation space from 1–1.30 pm earlier that day, featuring live music from Dennica Worrell and facilitation by Johann Yamin, Kate McDonough, and Margaret Rhee.
Organized by The Palah Light Lab, The New School
Register here:
www.eventbrite.com/e/afro-asian-poetics-music-and-solidarity-index-release-and-pantry-opening-tickets-722232937157
Ferry routes to Governors Island:
www.govisland.com/plan-your-visit/ferry
Ferry route to Governors Island from Lower Manhattan:
https://www.ferry.nyc/routes-and-schedules/route/governors-island/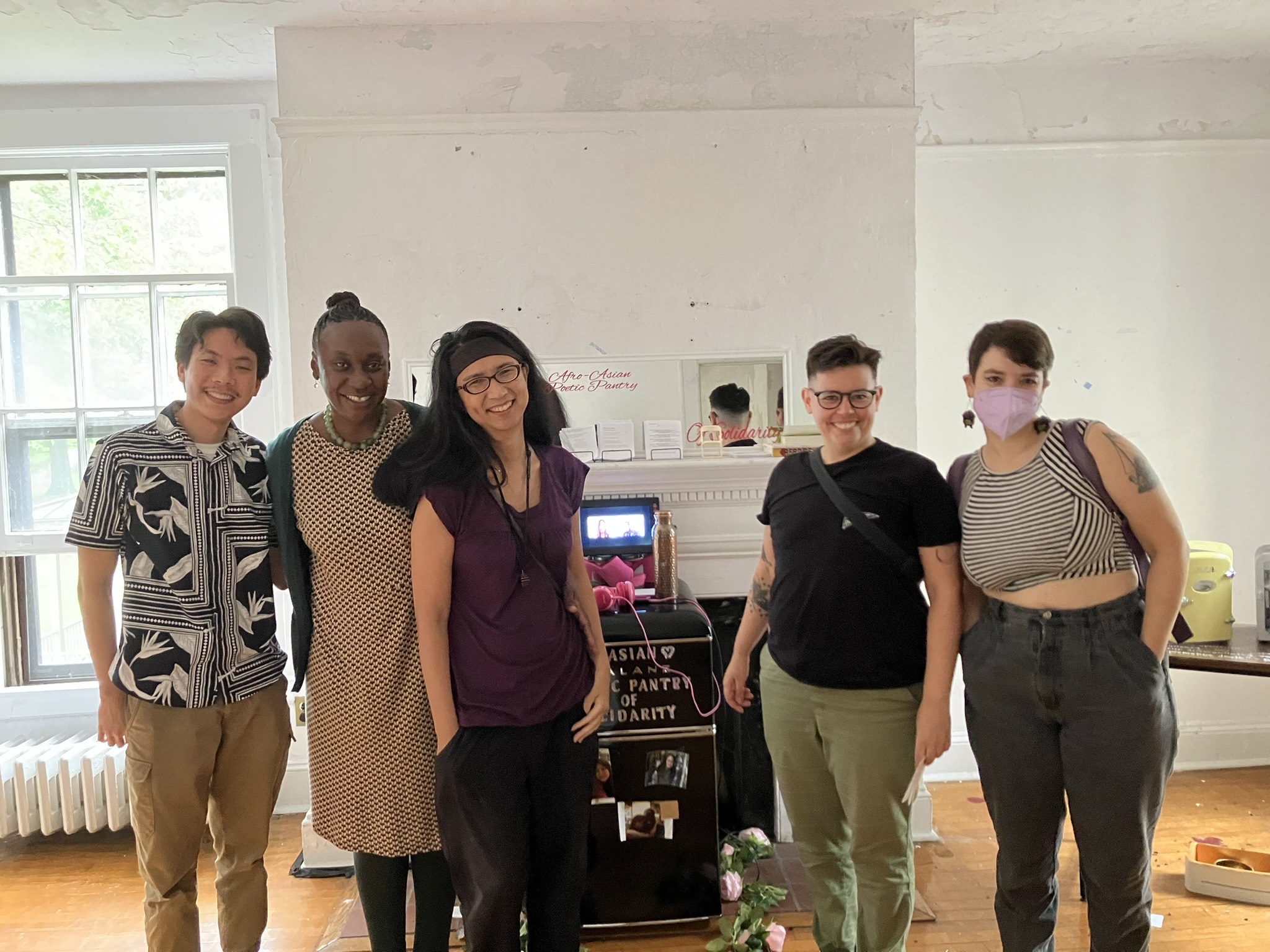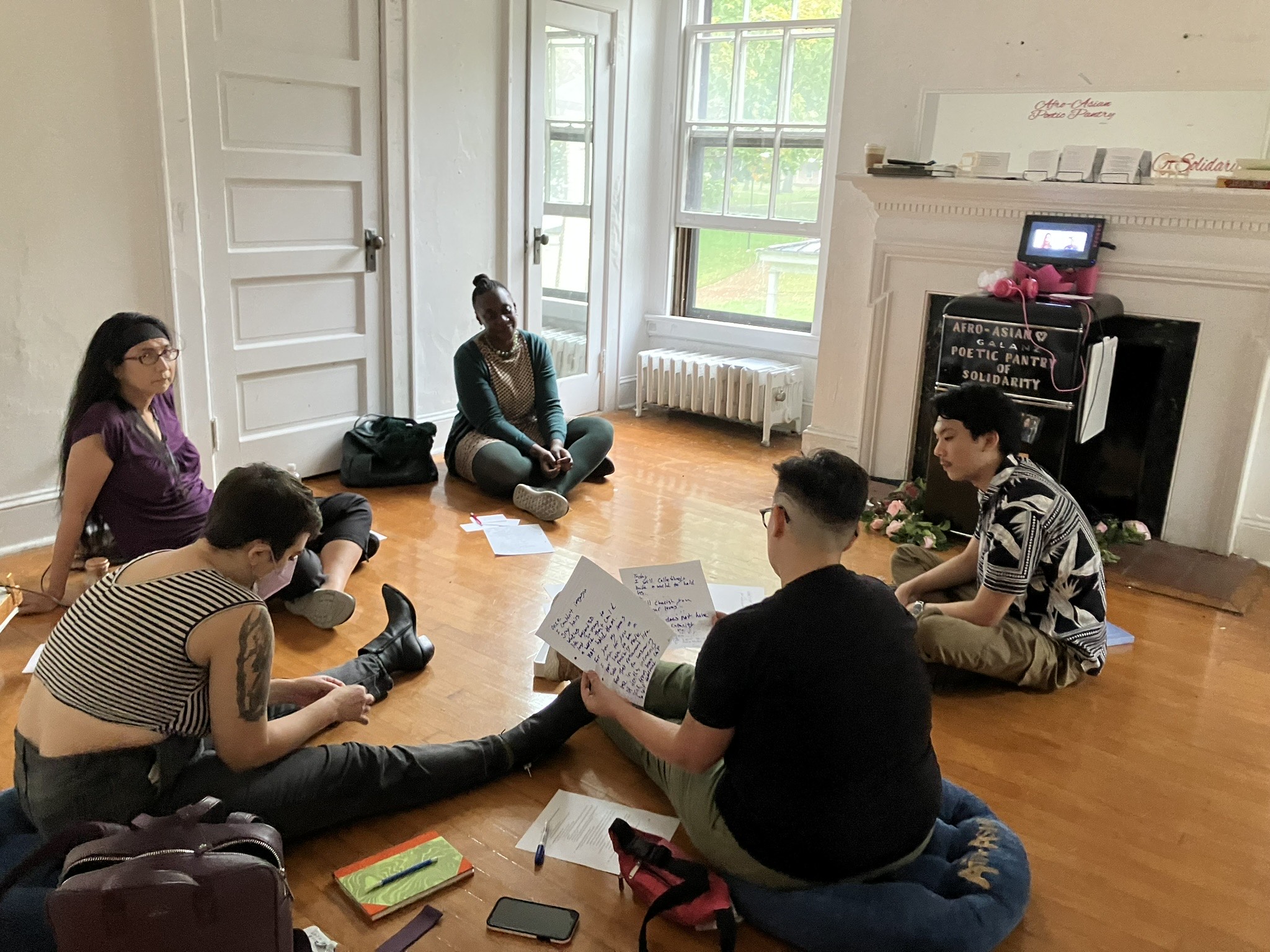 Contact
︎
palahlightlab@newschool.edu
︎
@palahlightlab
︎
@palahlightlab
Palah 파랗 Light Lab is based between the following institutions:
Web design by
Johann Yamin
, built with
cargo.site
's
Post-Dust
template
Affiliates
Digital Scholarship Studio and Network
, University at Buffalo
Gender Institute
, University at Buffalo
Digital Humanities & Literary Cognition Lab
, Michigan State University
The Humanities and Critical Code Studies Lab
, University of Southern California
The Maker Lab in the Humanities (MLab)
, University of Victoria
Trope Tank
, Massachusetts Institute of Technology
Metalab
, Harvard University
The Transformative Play Lab
, University of California, Irvine
Berkeley Center for New Media
, University of California, Berkeley